(Due date 5/25〆切)【2021年6月お届け分】ハーバルボディフード / 【Deliver in 2021/6】Herbal Body Food 250g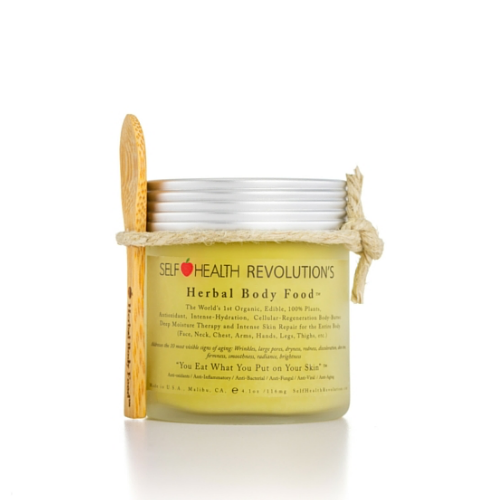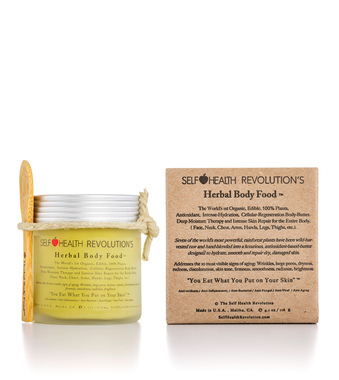 (Due date 5/25〆切)【2021年6月お届け分】ハーバルボディフード / 【Deliver in 2021/6】Herbal Body Food 250g
*Please see below for English.

【この商品は、受注発注商品です。毎月25日までのご予約を次月にアメリカから発送いたします】(容器は変更の場合がありますが容量は変わりません)
※個人輸入代行のため大切なお知らせがあります。最後まで必ずお読みください。

美容液をそのまま塗るボディバター。

美容液のハーバルフェイスフードの成分を全てそのままに、さらにカプアスやムルムルなど7種の熱帯雨林植物を配合した、顔にも使えるボディバター。

抗酸化作用の高いオーガニック植物成分が、リッチな使い心地で潤いを与え艶やかなお肌を蘇らせます。また美容液をつけた後の保湿クリームとして、顔にもお使いいただけます。

100%オーガニックの全身に使えるボディクリームです。植物アレルギーをお持ちの方は必ずパッチテストをしてからご使用ください。

【全成分】
テオブロマグランジフロルム脂(種子)*、アストロカリウムムルムルエキス(果実)*、アストロカリウムブルガレ油(果実)*、ビロラセビフェラ油(堅果)*、トリチリアエメチカ脂(種子)*、ガルシニアインディカエキス(果実)*、アロエベラエキス(葉)*、ホホバエキス(種子)*、ラベンダーエキス(花・葉・茎)*、オレガノエキス(花)*、クローブ*、タイムエキス(花・葉)*、ミルラエキス(葉細胞)*、ソケイエキス(花・葉)*、ベチバー(根)*、イランイランノキ油(葉)*、パチョリエキス(葉)*、サンダルウッドエキス*、カルダモンエキス(種子)*、マンダリンオレンジ*、レモン(葉・果皮・茎)*
*がついているものはオーガニック成分です。

【ご予約に際する注意事項】
・受注発注形式の個人輸入商品ため、ご入金後のキャンセル、返品、交換はできません。
・海外輸入商品のため通常は税金がかかりませんが、化粧品の場合、購入代金の60%が1万円を超えると消費税がかかる場合があります。
・破損した状態で到着した場合、お受け取り当日のご連絡がない場合は補償の対象となりませんのでご注意ください(詳細は発送時にメールをお送りしますので必ずお読みください)。

【Important notice included: Please read everything】

Herbal Body Food™ feels warm and simply wonderful on the skin. This powerful, anti-aging moisturizer is specifically formulated to address every part of the body and every skin type and concern, including the repair of severe dryness and loss of elasticity, quickly restoring the appearance of youth and beauty. It delivers superior antioxidant protection that hydrates, nourishes, and imparts a vibrant sheen and glow to the skin.

Benefits:
* Repairs, nourishes, and feeds the skin
* Diminishes the appearance of cellulite
* Treats eczema and psoriasis
* Helps diminish deep llines and wrinkles
* Visibly improves skin texture
* Increases skin elasticity while it tightens
* Delivers glowing and youthful radiant skin
* Lifts and firms skin
* Balances extremely dry skin
* Brightens and evens skins appearance
Herbal Body Food™ is:
Anti-Oxidant
Anti-Inflammatory
Anti-Bacterial
Anti-Fungal
Anti-Viral
Anti-Aging

INGREDIENTS:
Bacuri (Platonia Insignis), Cupuacu (Theobroma Graniflorum), Muru-muru (Astrocaryum Muru-Muru), Tucuma Kernel (Astrocaryum Vulgare), Ucuuba (Virola Sebifera), Mafura (Trichiliaemetica), Kokum (Garcinia Indica), Aloe Barbadensis (Aloe Vera), Simmondsia Chinensis (Jojoba), Lavandula AngustIfolia (Lavendar/Orig.France), Origanum Vulgare (Oregano/Orig.Morocco), Syzygium Aromaticums (Clove Bud/Orig. Indonesia), Thymus Vulgaris (Thyme/Oig.South Africa), Commiphora Myrrha (Myrrh/Orig.Somalia). A proprietary source and formulation of Jasminum Officinale, (Jasmine) Absolute, Vetiveria Zizaniodes (Vetiver), Cananga Odorata (Ylang Ylang) Extra, Pogostemon Cablin, (Patchouli), Santalum Spicatum (Sandalwood), Elettaria Cardamomum (Cardamom) Seed, Citrus Reticulata (Mandarin Orange), Citrus X Limon (Lemon)

NO Toxins, Preservatives, Parabens, Sulphates, Chemicals, Dyes, Petrochemicals, GMO's, Synthetic Scents or Fragrance, Triclosan, Silicones, Glycol, Mineral Oil, EDTA, Aluminum, Animal Testing, and Gluten Free

Herbal Body Food™ is sourced from all over the world, hand-harvested, organic, and handmade. Our sourcing and formulation is proprietary and patent-pending.

*We accept orders until 25th every month then will ship you around the middle of next month.
*Cancellation will not be accepted after the payment is done.
*Tax might be charged for over ¥16,000 order.
*Contact us immediately when broken. We can not accept refund/return if you do not contact us on the day you received the package.
 
All handmade and hand-harvested with love
 
Please read the ingredient list before using product. If you have a known plant or nut allergy to any of our ingredients it is recommended that you not use. Our products are not FDA recommended, but many believe that is a positive. By purchasing our products you are taking personal responsibility for any adverse reactions to any ingredients in our products.
Pre-Order Item
Scheduled shipping date: 06/20/2021
*Tax included.
*Shipping fees are free on this item.