(Due date 5/25〆切)【2021年6月お届け分】ハーバルフェイスフード / 【Deliver in 2021/6】Herbal Face Food 59ml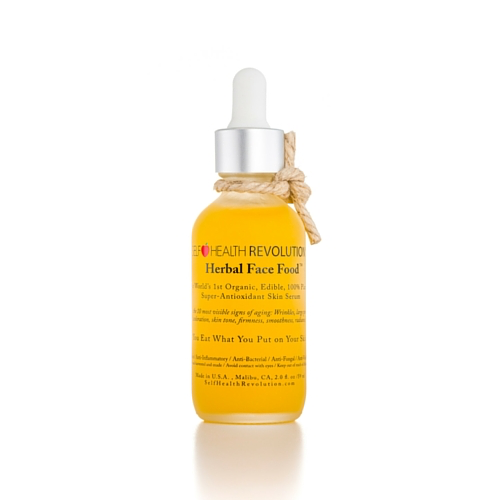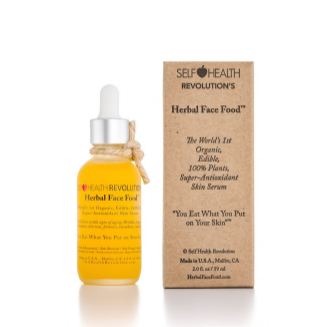 (Due date 5/25〆切)【2021年6月お届け分】ハーバルフェイスフード / 【Deliver in 2021/6】Herbal Face Food 59ml
*Please see below for English.

【この商品は、受注発注商品です。毎月25日までのご予約を次月にアメリカから発送いたします】
※個人輸入代行のため大切なお知らせがあります。最後まで必ずお読みください。

アロエベラやホホバオイルなどの保湿成分、またクローブやオレガノ、タイムなどの抗酸化作用の高いハーブなど、15種類のオーガニック植物成分のみで作られた美容液です。

※顔につけると、トウガラシを塗ったような刺激がありますが数分でおさまります。この刺激は活性酸素に反応しているもので、問題はありません。辛い場合は馬油やココナッツオイル、アルガンオイルなどの植物オイルをつけると早く刺激がおさまります。

【効果・効能】お肌の抗酸化や乾燥を防ぎ、ハリや艶やかさを与え、キメを細かくする効果がのぞめます。また、組織の修復機能が高いため、ニキビや肌荒れの治癒作用に優れているとされています。

100%オーガニック、ハーブを原料とした美容液です。植物アレルギーをお持ちの方は必ずパッチテストをしてからご使用ください。

【全成分】
アロエベラエキス(葉)*、ホホバエキス(種子)*、ラベンダーエキス(花・葉・茎)*、オレガノエキス(花)*、クローブ*、タイムエキス(花・葉)*、ミルラエキス(葉細胞)*、ソケイエキス(花・葉)*、ベチバー(根)*、イランイランノキ油(葉)*、パチョリエキス(葉)*、サンダルウッドエキス*、カルダモンエキス(種子)*、マンダリンオレンジ*、レモン(葉・果皮・茎)*
*がついているものはオーガニック成分です。

【ご予約に際する注意事項】
・受注発注形式の個人輸入商品ため、ご入金後のキャンセル、返品、交換はできません。
・海外輸入商品のため通常は税金がかかりませんが、化粧品の場合、購入代金の60%が1万円を超えると消費税がかかる場合があります。
・破損した状態で到着した場合、お受け取り当日のご連絡がない場合は補償の対象となりませんのでご注意ください(詳細は発送時にメールをお送りしますので必ずお読みください)。

【Important notice included: Please read everything】
The World's 1st Organic, Edible, 100% plants only skincare product with a ORAC Antioxidant rating of over 10 million (highest ever tested). The product is handmade in Washington, USA fresh in small batches. The ingredients are wild-harvested by hand from all over the world so our supplies are very limited.

It is proven to address the ten most visible signs of aging:
1. Wrinkles
2. Large Pores
3. Dryness
4. Redness
5. Discoloration
6. Loss of Skin Tone
7. Firmness
8. Smoothness
9. Radiance
10. Toxins

Benefits:
* Eczema, Rosacea, Psoriasis, and Acne
* Treats Melasma
* Reduces wrinkles and sun damage
* Deeply hydrates and nourishes
* Promotes cellular regeneration
* Attacks damaging free radicals
* Supports collagen and elastin layers
* Smoother and younger looking skin
* Controls acne and scarring
* Nourishes, and feeds the skin
* Helps diminish deep lines and wrinkles
* Visibly improves skin texture
* Increases skin elasticity while it tightens
* Diminishes pore size
* Lifts and firms skin
* Balances extremely dry or oily skin
* Brightens and evens skin appearance
* Responds to bug bites, burns, and scars
* Acts as a natural deodorant

Herbal Face Food™ is:
Anti-Oxidant
Anti-Inflammatory
Anti-Bacterial
Anti-Fungal
Anti-Viral
Anti-Aging

Ingredients:
Aloe Barbadensis (Aloe Vera), Simmondsia Chinensis (Jojoba), Lavandula AngustIfolia (Lavendar/Orig.France), Origanum Vulgare (Oregano/Orig.Morocco), Syzygium Aromaticums (Clove Bud/Orig. Indonesia), Thymus Vulgaris (Thyme/Oig.South Africa), Commiphora Myrrha (Myrrh/Orig.Somalia). A proprietary source and formulation of Jasminum Officinale, (Jasmine) Absolute, Vetiveria Zizaniodes (Vetiver), Cananga Odorata (Ylang Ylang) Extra, Pogostemon Cablin, (Patchouli), Santalum Spicatum (Sandalwood), Elettaria Cardamomum (Cardamom) Seed, Citrus Reticulata (Mandarin Orange), Citrus X Limon (Lemon)

All handmade and hand-harvested with love
 
Herbal Face Food™ has a powerful herbal scent. These plant concentrates are extremely aroma therapeutic. Many experience relaxation and a sense of well-being after use. It absorbs rapidly and the aroma generally fades in 15 minutes. We cannot alter the powerful scent without altering the healing powers of the plant.
Upon application Herbal Face Food™ will create a thermophilic effect upon your skin. This stinging to burning sensation can last up to a minute or two. This is normal and signifies that the powerful plant antioxidant and enzymes are stimulating and working deep in the skins cells.
Please read the ingredient list before using product. If you have a known plant allergy to any of our ingredients it is recommended that you not use. Our products are not FDA recommended, but many believe that is a positive. By purchasing our products you are taking personal responsibility for any adverse reactions to any ingredients in our products.

*We accept orders until 25th every month then will ship you around the middle of next month.
*Cancellation will not be accepted after the payment is done.
*Tax might be charged for over ¥16,000 order.
*Contact us immediately when broken. We can not accept refund/return if you do not contact us on the day you received the package.

The product has been recently endorsed by Angelina Jolie's personal physician, Dr. Kristi Funk, top celebrity skin guru in NYC, JoAnna Vargas and Dr. Howard Liebowitz, Anti-aging Doctor for Suzanne Somers and Dr. Phil.
Pre-Order Item
Scheduled shipping date: 06/20/2021
*Tax included.
*Shipping fees are free on this item.